Futura Collection (URW)++
Professional Font Collections by URW++ For Your Mac.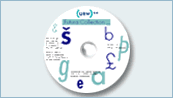 Unparalled diversity and character comprehensiveness
URW's Futura Collection on hybrid CD contains a unique offering of 38 styles from the Futura typeface family.
All typefaces are supplied in complete Latin character set for Western and Eastern Europe, including Baltic, Romanian and Turkish. 17 of the 38 Futura fonts also come with Greek and Cyrillic glyph sets.
PostScript Type 1 and TrueType for Mac
For Mac OS 9 and earlier
All 38 typefaces in the URW Futura Collection are delivered in PostScript Type 1 and TrueType format for Macintosh, a separate font for each character set (West, East, Romanian, Turkish). Additionally, the collection contains 17 Greek and Cyrillic fonts, respectively, in both formats.
OpenType Format (OTF) and TrueType Format (TTF) / All glyphs in one font
For OS X and Windows

The fonts are structured as follows:

17 as OTF Plus, i.e. complete Latin plus Greek and Cyrillic;

21 as OTF Standard, i.e. complete Latin

17 as TTF in OTF Plus glyph set

21 as TTF in OTF Standard glyph set
Please read the Fonts List of all font faces which ship with this CD (PDF).
---
For all URW++ font collections offered here, the URW++ license agreement is valid as shown here in PDF format.
---
Note Legali (Tedesco): Legali | Licenza d'Uso | Suggerimenti Ordine | Privacy | Marchi Registrati